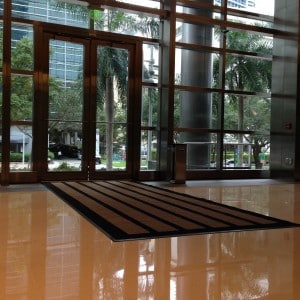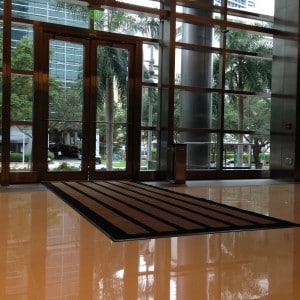 Most businesses agree: floor mats are essential for protecting floor surfaces, preventing slips, absorbing moisture and keeping facilities dirt-free. Nevertheless, new commercial building occupants and property managers wonder if runner mats, in addition to existing entryway mats, offers supplementary safety benefits. The short answer is yes.
Unlike a traditional entryway mat that is placed on the exterior or interior side of the doorway, runner mats cover a much larger surface area. While placement is up to the discretion of the business, many corporate offices, retail stores, gyms and manufacturing facilities position runner mats perpendicular to their rectangular entryway mats. This is particularly beneficial during the wet winter season, when safety requires more than a few steps onto a moisture-locking entrance mat. Standard-sized runners allow at least five steps more, aggressively cleaning and drying the bottom of shoes with no additional effort required.
Runner Mats and Cleanliness
In addition to enhanced footwear drying and bacteria cleaning properties, runner mats simply cover more square footage compared to standard commercial entrance mats. If you own, manage or lease a building with tile lobby floors, you likely understand that even the smallest of puddles can create dangerous messes. Safeguard slick floors without compromising interior design on high-traffic pathways throughout the lobby, such as the doorway to the elevator or stairwell.
Unlike costly wall-to-wall carpeting, you don't have to worry about debris build-up. Runner mats are transportable, making them easy to wash and hang dry (or steam) compared to fixed carpeting. Easy-to-clean materials keep bacteria from compromising your indoor air quality (IAQ). Tracked soils are more hazardous than they are outside, pushing indoor pollution levels up to five times higher. Poor air quality can cause discomfort, allergies and fatigue for employees, patrons and clients.
If you want to create a safer, clean environment for your business, reach out to Eagle Mat's customer representatives today at 877-333-1018. We provide phone consultations to help business owners and property supervisors outfit facilities with safety and health in mind.