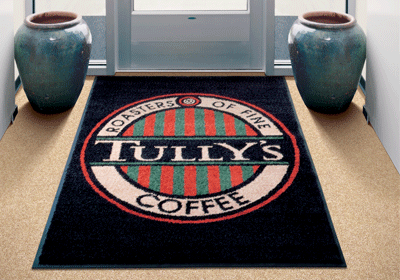 Today, we're addressing how personalized door mats improve interior decor. Last week, you may recall we talked about how personalized door mats can improve exterior décor. Obviously, you can also improve interior décor by applying many of the same principles.
Before we talk about décor though, let's first review why you even have mats in the first place. The reasons cannot be stressed enough!
Mats increase floor safety by increasing traction.
Increased traction for pedestrians spells fewer slip, trip, and fall incidents.
The National Safety Council says that in 2016 in the US, 697 employees died from a slip, trip, or fall at work.
The NSC also says that all falls are preventable. Think about that for a minute.
Now that we know you need mats, why not pick some that will improve the interior décor?
For instance, a Supreme Carpet Logo Mat printed with your company name and or logo creates a strong first impression for visitors. When someone walks in and sees this luxurious mat, they know it was put there for their safety. There's a warm, fuzzy feeling especially with a high quality mat.
Or perhaps you want to use accent colors from your overall design scheme, or you'd like to have a print of an Old Master painting on your mat.
Depending on what you choose for your mat, you can create an overall feeling or ambiance the moment people walk in. Today, mats are printed with state-of-the-art computerized technology. The images or letters will be flawless, and the colors will not fade.
If you have a store, you can print a photo onto the mat of products from a certain section that you want customers to ask about or be drawn to.
If branding is what you're concerned about then just put your logo on a big mat. The Graphic Impressions mat can do complex shading and even 3D imaging.
The one thing we want to emphasize is that you need more than one mat!
As soon as a mat is dirty or wet, it needs to be changed out to a clean one. Clients walking onto a dirty mat is not going to do your company any favors. You want them walking on clean mats.
That means that if you're not sure what you want for images, you can try a few different ones on different mats, and see what gives you the look and the buzz you're after.
Mats are inexpensive additions to operating costs, and if they prevent a few accidents too, the costs are even more justifiable!
Always get rid of mats that are worn out. Mats taken care of properly will last a long time, but they don't last forever. As soon as they no longer lie flat in one place or are cracked or show other signs of wear, get new ones. You want your mats to prevent accidents, not contribute to them.
If you're considering logo mats but aren't sure about it, contact us, and let us give you some ideas. We love logo mats!
Do you have other questions? It's easy to contact us, and we're happy to help you. You can always call us at (877) 333-1018 or email us at sales@eaglemat.com for more information or if you aren't sure what you need.