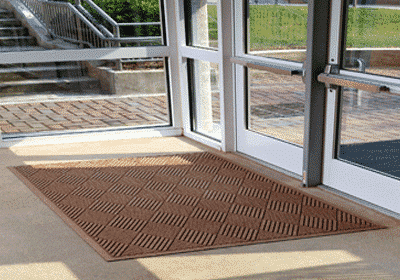 Increasingly, consumers are prioritizing reducing their carbon footprint. From recycling to using public transportation, Americans' habits are changing to reflect the seriousness of the climate crisis. This includes the decisions they make about what products to buy and which companies should get their business. According to several recent studies, those companies that commit themselves to environmentally friendly and sustainable business practices will attract more customers and more customer loyaly. And eco-friendly floor mats for your company's offices or facilities can be a part of your efforts to attract green-conscious consumers.
As recently reported in Forbes magazine:
According to findings from Neilsen, companies that are innately "greener" and less harmful in practices are more popular than companies that don't pay attention to such issues.  
A recent survey discovered that 81 percent of global respondents felt that organizations should be working to improve the environment.
Another study by Unilever found that one-third of consumers are buying from brands that are seen as sustainable and that transparency about environmentally-friendly efforts shows customers that a company is trustworthy.
A Wide Selection of Eco-Friendly Mats Can Help Your Sustainability Efforts
Eco-friendly mats are a perfect way for individuals and businesses alike to reduce their carbon footprint and enhance their sustainability programs. At Eagle Mat and Floor Products, we offer several mats made from recycled materials, such as tiles made of recycled tires and models composed of up to 100 percent recycled PET drinking bottles. Our eco mats also and feature a skid-resistant backing comprise of 20 percent recycled rubber tires. These are certified Green Products that may make buyers eligible for valuable LEED certification credits.
Eco-Friendly mat options that we offer include:
Eagle Mat and Floor Products proudly offers the finest in commercial mats and floor covering products in the marketplace. Our products are designed to provide safety, durability, and functionality in all types of environments.
We sell and rent matting, safety flooring, and other products that help businesses deliver the highest quality of service and provide safety to clients, patrons, and employees alike. Contact us today at 1-877-333-1018 to speak with our knowledgeable sales team.