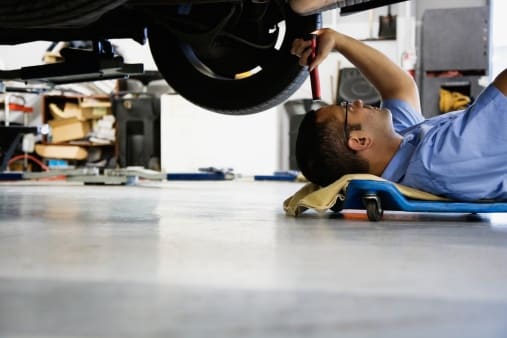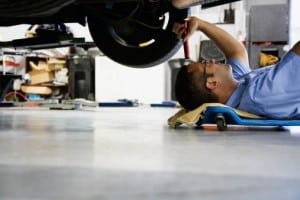 Concrete can be considered one of the most durable and aesthetically pleasing flooring materials used in almost all types of establishments from commercial, industrial, and even residential buildings. When used in garages, however, garage floor coverings are essential in preserving the functionality, structural integrity, and overall appearance of concrete over time. Once upon a time, concrete sealants or surface epoxies were the only viable option for protecting large or custom-sized floor spaces. High cost, long turnaround time, and the need for a pre-insallation acid wash make such garage floor coverings unattractive for many project managers to consider, however. Today, garage floor mats are more cost-effective and practical option that provides equal protection from damage and deterioration.
Floor Covering Tip: When exploring garage floor mats, the most important features to consider are resistance to contamination especially chemical products, physical performance, and protection from abrasion.
Although concrete floors are definitely more durable and resistant to damages than any kinds of flooring, they can still be damaged through continual abuse overtime. The flooring faces a lot of stress everyday especially for areas with heavy traffic like abrasion, impact, chemicals, thermal shocks, and stains. Concrete is solid but are also porous, so it's important to choose non-porous garage floor coverings to ensure that liquid spills are not slowly absorbed by the concrete.
Before choosing a floor covering that can protect your flooring from cracks and stains, you should first survey the environment where the product will be installed to know the right properties and features to look for that will match your flooring needs. Weather conditions and other external elements are the main factors that affect the performance of flooring and floor covering. It is essential to understand the environment of the area so you will know what type of floor mat or floor tiles must be installed to protect your concrete garage floor.
External Factors to Consider
Humidity – this condition can cause moisture in the surface of floor mats and tiles. If you are located in a humid environment and you want to install garage floor mats or tiles to protect the concrete flooring, make sure that the concrete flooring is properly sealed and coated to prevent moisture accumulation under the garage floor mats and tiles.
Temperature – garage floor mats and tiles are resilient to hot and cold temperatures especially those with high quality. However, extreme temperatures can cause them to expand and contract overtime. If you are installing wall-to-wall floor mats, make sure to leave a little space, about ¼ inches between the wall and the edge of garage mat so there is still space in case the mats expand or contract.
Specific Garage Flooring Issue
Tire Marks – considering that the area is a garage, it is expectable that the most common problem people will find in the flooring is tire marks. Before choosing the floor covering for your garage, make sure to look for possible tire marks on the surface first so it can be treated or sealed first before installing the floor covering. Rollout garage mats are great for garage flooring since they seal and protect the concrete floor from tire marks.
Aside from the environment factors and flooring issues, other factors to consider when planning on protecting your concrete garage floors through floor mats are the installation process, cost, maintenance requirements, and special features. Choose the mats or tiles that are easy to install and maintain to reduce cost, and also improves the overall appearance of your concrete garage flooring.
Further Reading on Garage Floor Coverings by BLT
Join Mr. David Begley of Better Life Technologies as he discusses garage floor tile and mat installation tips with the editorial team at the Eagle Mat Blog.
Contact Eagle Mat for Flooring Consultation & Sales Questions
For additional information on garage floor coverings and other commercial safety products, contact Eagle Mat customer services at 1-877-333-1018. Readers are also invited to shop floor mats online at Eaglemat.com.