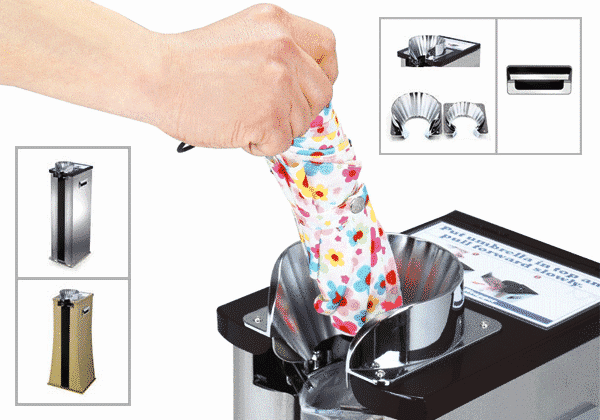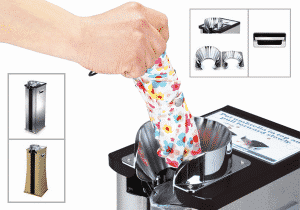 This August, Eagle Mat and Floor Products will carry a new wet umbrella bag stand designed to make life easier for facility managers and guests alike.
New and Improved. Our new line of Wet Umbrella Wrappers have been created with two goals in mind: Convenience, and effectiveness. The new umbrella wrappers feature an automatic wrapping process that enables guests to bag their umbrella in 1 fluid motion. By making the umbrella-bagging process more efficient and convenient, these new stands keep floors dry and safe by attracting more guests to stow their wet umbrella with ease.
And when it comes to big picture safety goals, our new Automatic Wet Umbrella Wrappers are more effective than other models. Because their convenience increases visitor usage, new Automatic Wet Umbrella Wrappers are more effective in preventing liquid accumulation across lobby floors, hallways, elevator lobbies, and other areas.
Why Care About Wet Umbrellas?
Our customers often ask: Are wet umbrellas really a safety concern? With a forward-thinking safety matting system in place, it seems that debris and water accumulation should be a non-issue. However, wet umbrella bag stands are a smart investment for a number of reasons.
1. Wet umbrellas might carry rainwater past entrance mats.
Entry mats have a surface texture that aggressively scrape dirt from shoes, and their absorbent carpet/polypropylene fibers soaks up liquid. Together, these features prevent a great deal of dirt and debris from entering a facility. Some studies even indicate that ground-level debris control prevents the spread of airborne debris, pollutants, and bacteria. However, mats do little to prevent liquid accumulation from wet umbrellas.
2. Water accumulation can occur in unlikely places.
In rainy conditions, slip and fall accidents are more likely to occur in areas just inside the entryway. Although guests might thoroughly wipe their shoes on an entrance mat, they may carry their wet umbrella past the entryway. When unwrapped, wet umbrellas track a great deal of rainwater across lobby floors, causing accumulation in unexpected areas.
Reception desks, interior hallways, elevator lobbies, and within elevator cabs are just a few of the places rainwater is likely to form dangerous puddles.
3. Puddles are more dangerous when they form in unexpected places.
As noted above, wet umbrellas may cause water accumulation in unlikely places. Such accumulation is dangerous for at least 3 reasons. First, unexpected puddles are more likely to cause a slip and fall accident. Second, the more unlikely the location, the longer it may take for a member of the maintenance staff to mop the area and make it safe for visitors. Finally, the longer water accumulation is left untouched, the greater the chance it will contribute to the formation of hazardous mold or mildew.
4. Wet umbrella bags enhance the overall customer/ client experience.
Finally, it's time to think customer experience. Few people like to be caught in a rainstorm, and even fewer enjoy carrying a wet umbrella once inside an air-conditioned building. A well-positioned wet umbrella bag dispenser is a simple way to let each visitor know you care about his or her comfort, health, and safety.
Learn More About New Automatic Umbrella Wrappers
Controlling wet umbrellas is essential when it comes to increasing facility safety, particularly for those facilities that are located in climates that experience a great deal of rain or snow precipitation. Our new line of Automatic Wet Umbrella Wrappers will be available to ship on August 8th, but readers may pre-order units by visiting our Wet Umbrella Bag Stands online store. For additional questions and assistance, Eagle Mat Client Services is available at 877-333-1018.