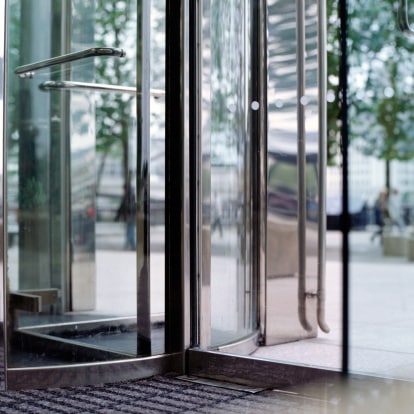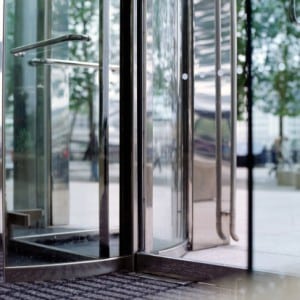 Recessed floor systems are employed in a variety of business locations to control large amounts of moisture, dirt, and debris accumulation.  You may recognize these commercial floor mat systems as the horizontal aluminum and carpet "grills" that commonly line airport entryways, hotel vestibules, and other heavily trafficked commercial spaces.
Though a substantial investment, businesses choose recessed mat systems because they deliver a level of unparalleled safety and hygiene that ordinary rubber, vinyl, or carpet mats may not adequately provide.  There are several special considerations to make prior to investing in a recessed grill system for your place of business.  A few of the most common include:
Facility Traffic:  Inflow and Outflow of Visitors Each Day
Weather, Climate, & Debris Accumulation
Hygiene:  Your Facility's Commitment to Wellness & Hygiene
Indoor Air Quality (IAQ)
Maintenance:  How Recessed Floor Systems May Affect Maintenance Costs
Facility Traffic
No two facilities experience the same degree of visitor in/outflow.  Recessed grill mats are designed exclusively for those facilities that experience a moderate to high degree of traffic each day.  These recessed floor systems are industrial strength and made to endure hours of persistent foot traffic.  Those facilities that experience a lesser degree of visitors each day may find their needs are met with simpler, more affordable entrance mats made of rubber, carpet, vinyl, or weatherproof polypropylene.
Weather, Climate, and Debris Accumulation
Your facility may be subject to wild, erratic weather patterns in virtue of its geographic location.  Businesses in the Northeastern United States, to illustrate, are no stranger to blizzards that blanket the streets with several feet of icy snow without warning.  Southeastern businesses, particularly those located in Florida, have unique weather concerns that include tropical storms, flooding, and hurricanes.  An honest assessment of weather patterns both past and present is a critical factor when deciding whether a recessed grill mat system is right for your place of business.  Ask:  How will weather affect the amount of moisture, dirt, and debris visitors track into my building?  It is important to also consider how ice-melting "sidewalk salt," water-retaining sediments, and other products that aim to control weather will contribute to debris in times of inclement weather.  In short, buildings that experience harsh weather and a great degree of debris, whether natural or man-made, are smart to invest in heavy duty grill mats to control accumulation before it becomes a safety concern.
Hygiene
Recessed grill mats are among the most effective products in promoting facility hygiene, in terms of both ground-based debris control as well as airborne pollutants (more on that below, in the subsection titled 'Indoor Air Quality').  Recessed grills feature horizontal aluminum slats that aggressively scrape and collect incoming dirt/debris.  The slats are spaced, allowing debris to fall below the surface of the grill system and into an underlying recessed compartment where they are housed until removed by a maintenance team, most commonly by an industrial vacuum like a Shop-vac.  Eagle Mat carries 3 of the industry's most rigorously tested and refined grill mat systems, each capable of containing up to 60% of incoming debris:
Pedimat:  Our #1 selling recessed grill system.  At 7/16" deep, the Pedimat is lightweight yet large enough to meet the needs of most commercial spaces.
Peditred:  Peditred recessed grill systems are slightly larger than the Pedimat, measuring 3/4" deep with a special "roll back" feature that enables easy cleaning.
Pedigrid:  The Pedigrid is the most heavy-duty of our recessed grill systems, measuring 1 13/16" deep and built to handle up to 400lbs per wheel rolling load.
Each of the above grill mat systems are available in custom shapes and sizes, making it easy to cover unique floor spaces in vestibules, entryways, and lobbies.
Indoor Air Quality (IAQ)
Businesses that install recessed grill systems often report improvements in Indoor Air Quality (IAQ).  This is primarily due to the effectiveness with which recessed grill mats are able to clean and contain incoming debris.  There are many different factors that contribute to air quality, however, including climate, employee size, employee rotation, and infrastructure elements like the air system itself.  While it is well documented that recessed grill mats greatly reduce the amount of incoming debris that visitors track into a building (hovering at around 60%), one must be careful to appropriately isolate all variables prior to attributing specific IAQ improvements with any one particular recessed grill system.
Maintenance Costs
Maintenance costs play a large role in determining to what degree your business may benefit from a commercial-grade recessed grill system.  Because of these grill mats are capable of controlling such a large portion of incoming debris, many businesses report a reduction in maintenance costs over time.  Controlling moisture, dirt, and debris at the entryway means less mess to clean in other areas of the facility.  This can drastically reduce the need for custodians and other janitorial services, particularly in the facility's common areas.
Contact Eagle Mat for Consultation
Readers are invited to contact Eagle Mat for additional information regarding recessed floor systems.  Our Live Customer Support team is available at 1-877-333-1018 from 10am-6pm EST.  We are opening a West Coast division in May and will provide details in the coming weeks regarding our new office's operating hours.  No matter what your location, our team of experienced professionals is ready to assist you with additional product specifications, LEED credit information, and installation advice!


Add blog to our directory.