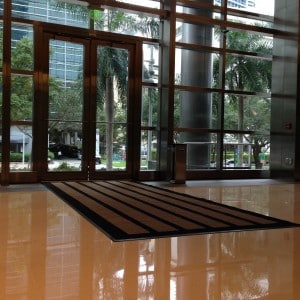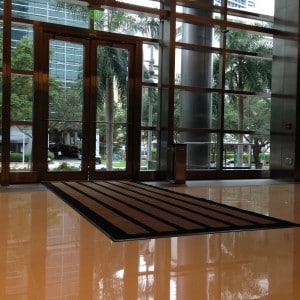 This picture, taken at a prominent hotel in Brickell, Miami's booming financial district, perfectly illustrates how entrance mats and runners can be designed to compliment even the most regal of commercial and residential spaces. To learn more about these flexible and fully customizable commercial mats, visit our page on Waterhog Mats.
Mats & Hotel Design
Concerned that floor mats will ruin your interior decor? Thank again. There are more than 50 types of commercial floor mats available in a variety of different colors, lengths, thicknesses, and customization options. Businesses no longer have to choose between safety mats and high end aesthetics. Today, it's easy to maintain both.
In an article for 4hoteliers.com, Hughan Design's owner and founder, Angela Dingla, offers a few tips for hoteliers looking to revamp (or reevaluate) elements of interior design. Ms. Dingla's advice is particularly helpful for luxury hotels looking for commercial floor mats and runners.
Hotels, Decor, Mats, & Runners
First, it's important to define the hotel as either boutique or lifestyle. Making this clarification helps hoteliers better understand who their guest is, what they want, and how interior decor can be used to augment their stay.
"Boutique hotels are all about luxury and individuality," Ms. Dingla says. "It is all about detail, quality…" For these hotels, she recommends relying on low-level lighting and warm spaces that are both inviting yet intimate.
But what about lifestyle hotels? "These are places to be seen in," Ms. Dingla explains. According to Ms. Dingla, lifestyle hotels tend to have sharper designs and a feel that is more contemporary. Technology and open floor plans are also common.
Read the full interview with 4hoteliers.com here.
Find Hotel Mats Today
We are pleased to offer commercial matting and flooring consultation for luxury hotels. For more information, including product specifications and samples, contact Eagle Mat Client Services at 1-877-333-1018.
Full Service Mat Rental, Rotation, & Laundering. Eagle Mat is pleased to offer a turnkey approach to health and visitor safety that commercial businesses and luxury hotels love. Our rental, rotation, and laundering services keep entryways clean, safe, and fresh. Always make a positive first impression, and never worry about excess dirt, debris, and grime. Visit our Services Page to learn more.