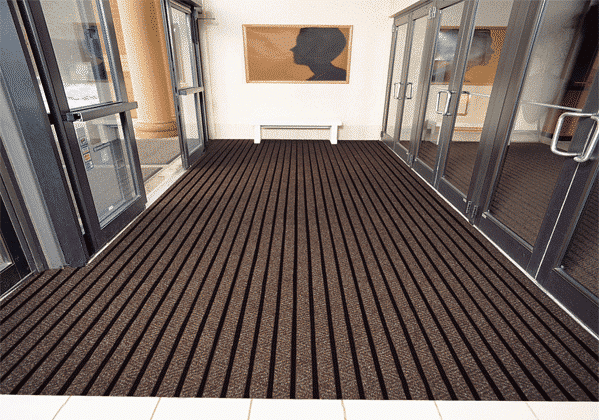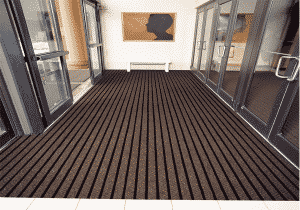 Some situations call for a heavy duty recessed grill mat system capable of stopping tough dirt and grime in its tracks. For such locations, architects and commercial property managers turn to the Pedimat recessed grill mat. The unique construction of the Pedimat® allows it to do things ordinary commercial floor mats cannot achieve, like improving indoor air quality (IAQ) by trapping up to 60% of incoming debris and bacteria before it has the chance to enter and congest the facility.
These recessed matting systems feature both carpet and aluminum horizontal slats on the surface. Below the surface is a spacious recess measuring 7/16" in depth. As visitors walk across the Pedimat®, the horizontal carpet/aluminum slats aggressively scrape and pull large debris and moisture from shoes' soles. Things like dirt, grime, rock salt, and other debris fall between the horizontal slats and into the underlying recessed compartment. Debris and moisture remain there, tucked safely below the surface of the floor until removed by maintenance with an industrial vacuum cleaner.
The most popular setting for a Pedimat® recessed grill system is at the entrance of a commercial property that exhibits one or more of the following characteristics:
Has an entrance vestibule
Located in a region that experiences heavy snow or rainfall
Experiences heavy foot traffic and visitor turnover throughout the day
Request Information on the Pedimat®
To learn more about Pedimat® systems, contact Eagle Mat Client Services at 1-877-333-1018.