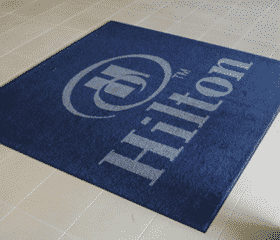 There are several reasons why businesses are turning to commercial matting and flooring services, even in times of global economic hardship.  In general, matting and flooring improvements are cost-effective ways to reduce liability, increase productivity, and spread brand awareness.
In the first installment of this Commercial Matting and Flooring Review, we will examine the specific areas where business owners may become exposed to liability claims during the usual course of business.  We will then explore the ways businesses may proactively insulate themselves from such liability with commercial floor mats and other property management products.
Commercial Matting and Liability
Commercial matting may limit a business's exposure to liability in several different ways.  To better understand this idea, one must consider the concept of agency that exists among an employer, their employees, and their customers.  In general, agency simply is a term used to describe the special type of relationship that exists among an employer and those with whom they contract to work.  That special relationship confers upon employers certain duties meant to protect both the employees and customers of their business.  These duties include fair compensation, reimbursement, indemnity, and most importantly the creation of a safe work environment.
Employers are required to take reasonable measures to create a safe environment for their employees.  This includes warning employees of known dangers as well as taking proactive steps towards limiting employees' exposure to such dangers.  Commercial matting helps in this regard, providing quick-fixes that make business environments more clean, dry, and suitable for work.  A few ways in which floor mats and other commercial matting products reduce the potential for liability include:
Of course, employers owe certain duties to their patrons as well.  For example, businesses that own the building in which they operate are required to warn visitors of known dangers simply in virtue of being property owners.  Common instances when this warning is required include cautionary signage indicating damp floors, high voltage areas, areas of restricted access, and signage indicating stairways and other abrupt changes in floor grade.
Businesses are likewise required to take reasonable action to create and maintain a safe environment for visitors.  Commercial matting and flooring products help businesses achieve this end in several ways, including:
Entrance mats:  controls the accumulation of dirt, moisture, and debris around the entrances to office areas.  This reduces the likelihood that a visitor will slip, fall, and incur injury in these highly trafficked areas.
Stair treads and handrails:  visitors, like employees, gain much from a staircase that is constructed, or retroactively upgraded, with highly textured stair treads and handrails.   These simple additions transform bare staircases into safely covered and brightly colored areas that are safe for visitor travel.
Wet umbrella bags:  Wet umbrella bags are as simple as they are effective, giving visitors a convenient place to put their wet umbrellas.  Without wet umbrella bags, visitors may track water from their umbrellas throughout entry ways and create a slippery environment for all.
Protecting business owners from liability is just one benefit of implementing well-planned matting solutions.  Floor mats, carpet upgrades, and other commercial flooring products may be beneficial in improving other aspects of business.  From creating more comfortable and productive work spaces to augmenting marketing campaigns with custom logo mats, there are many ways to leverage the cost-effective benefits of matting and flooring products.