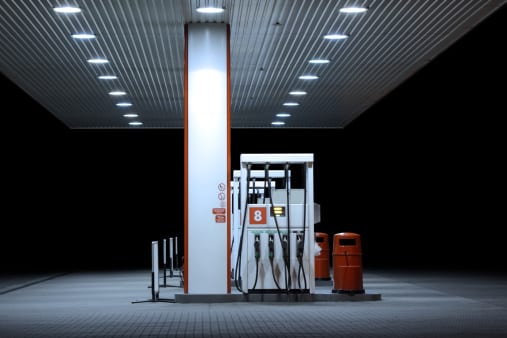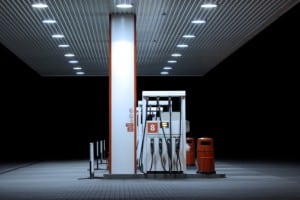 Rubber mats are in high demand for most retail outlets, and in no scenario is that more true than fuel dispensaries like gas stations.  Gas stations are heavily trafficked each and every day, and most locations adopt a 24/7 operating policy simply to fuel the seemingly never-ending demand for gasoline and other convenience items.   In such a location, consumer safety is a top priority for several reasons.  Most obvious is the flammable and toxic nature of their primary commodity:  gasoline.  A second reason for heightened safety concern, however, has to deal with customers.  The 24/7 nature of customer inflow and outflow makes gas stations and convenience stores prime targets for slip and fall accidents, liability lawsuits, and inordinate financial losses.  Additional factors like location, physical building structure, and weather can make gas stations even riskier.
In the 3 decades that we've been in business, we've had the pleasure of developing numerous relationships with gas station owners and operators.  Based on client feedback, we recommend gas stations use rubber safety matting in the following 3 main areas:
Gas Station Entrance Areas
Rubber door mats are ideal for the areas just outside entryways.  These mats are most often made with 100% commercial-grade Nitrile rubber, one of the toughest and most resilient rubber compounds available.  This enables them to firmly grip the ground, holding position with minimal slippage.  These mats are available with a variety of surface textures that aggressively clean and trap dirt, moisture, and other debris.  Best of all, rubber door mats are weatherproof and have a notably long lasting lifespan.  For environmentally conscious gas stations, rubber door mats are also available in "Eco" models that are made with sustainable materials that have a minimal impact on the environment.
Garages and Vehicle Service Areas
Garages and vehicle service areas have special needs that require special rubber matting products.  The prevalence of liquids, debris, and other corrosive agents makes it ineffective to use "normal" floor mats in these areas, as they are quickly and irreparably damaged.  Instead, gas station owners and operators may use the following types of products to protect floor spaces and visitors alike:
Garage Mats:  Our collection of garage matting features high quality "roll outs" from Better Life Technologies (BLT) that effectively seal and protect floor spaces from damaging liquid spills like gasoline, oil, and other corrosive agents.  They are also very simple to install, and we invite readers to visit the following article on Garage Floor Tile and Mat Installation.
Rubber Comfort Mats:  These "anti-fatigue mats" are perfect for a number of areas, including main garage floor spaces and along machinery.  There are a variety of products from which to choose, with most mats featuring special perforations for drainage, beveled safety edges, and special anti-corrosion treatments.
Customer Service Counters and Check-out Areas
For indoor service areas, we recommend anti-fatigue mats for the floor spaces on which employees stand most.  These mats flex underfoot, providing a "bouncy" and comfortable surface for employees who spend most of their time working on their feet.  Moreover, this flexing action stimulates natural muscle contractions in the feet and legs.  As a result, blood flow is increased while muscle tension is decreased, making for a happier and more productive employee!
Rental and Laundering Services for Gas Stations
Our rental and laundering services are a favorite among local clients who desire a "hassle free" solution to keeping their stations a clean and safe place.  Our gas station and industrial matting products are not limited to local business owners, however.  All readers are invited to shop our online store, and we are pleased to offer free shipping to any location within the continental United States!
For additional information, please contact us online or call 1-877-333-1018.