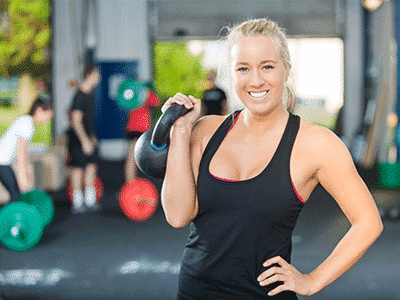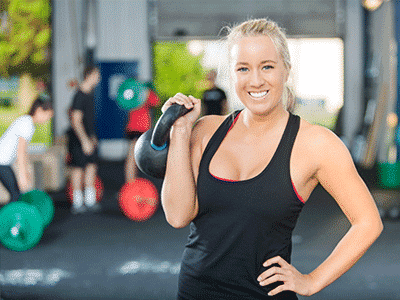 Kettlebell studios are becoming more popular as Americans continue to embrace the idea of integrated fitness. Kettlebell fitness classes are known to deliver workouts that engage the entire body, from the legs through the core, shoulders, and arms. Exercises are performed by lifting, swinging, tossing, and catching kettlebells that range in weight from 5 to 40+ pounds.
The explosive, high intensity nature of kettlebell workouts makes them unique compared to other fitness classes. On one hand, the dynamic and fast paced classes make attendees sweat and burn calories quickly. On the other hand, kettlebells are often tossed, dropped, and thrown uncontrollably. Without the right protective matting, kettlebells can cause serious damage to floors, walls, columns, mirrors, and those who attend the class.
This guide has been created to provide an overview of the different impact resistant gym mats that can protect kettlebell classes and studio floors. Own a gym that specializes in kettlebell classes or other high intensity cardio programs? Review this article, and share your thoughts on gym mats and class safety in the Comments section below!
4 Best Gym Mats for Kettlebell Classes
There are two primary schools of thought when it comes to gym mat installation and use. Some gyms install impact resistant rubber tiles throughout the facility to ensure weights do not crack, chip, and damage floors. Other gyms leave tile and hardwood floors uncovered to preserve their natural appearance, especially in group exercise rooms. In these environments, patrons are usually required to use smaller, personalized exercise mats to control sweat and prevent floor damage.
Below, we include gym mats and tiles that are ideal for either scenario described above.
1. Everlast Gym Mats – Rolls
A true industry standard in every sense of the word, Everlast gym mats are ideal when covering large and open floor spaces. Use these mats in group fitness rooms, especially in those where kettlebell classes are held. Durable, shock resistant, and comfortable, these rolls do more than just protect floors from falling kettlebells. In addition to providing floor protection, Everlast products also reduce stress and impact on the body to make kettlebell classes safer and more comfortable. Also available in piece-together gym tiles.
2. Equinox Gym Mats – Stand Alone
Affordable and easy to install, our Equinox mats are adaptable enough to use anywhere free weights and kettlebells are used. These mats can be used in a standalone or pieced-together fashion, making it easy to cover both large spaces as well as smaller, isolated kettlebell fitness areas. For kettlebell studios, these mats can be lined end-to-end to cover large hardwood and/or tile floors. Available in both 1/2" and 3/4" thickness, Equinox mats are tough enough to absorb the shock of falling kettlebells while also providing the ergonomic support needed to keep workouts and classes comfortable.
3. Mega Lock Gym Tiles
Laser cut and nearly indestructible, Mega Lock Gym Tiles are an excellent choice for kettlebell studios that need to cover large and/or unique floor spaces. Available in 3/8", 1/2", and 3/4" thicknesses to accommodate for various different needs. Mega Lock Gym Tiles feature a nonporous surface that cancels noise, absorbs/cancels vibrations, and insulates underlying floor surfaces from damage.
4. Carpeted Gym Floor Sticky Mat
Protecting fitness studio floors includes more than just shock-absorbing mats. To keep exercise areas in pristine condition, additional mats are needed to prevent patrons from tracking dirt, debris, and moisture onto the premises. Our Carpeted Gym Floor Stick Mat has been designed to do just that, featuring a two-part design that cleans and contains even the toughest debris. On the first half, a "nubbed" polypropylene runner ensures maximum scraping and absorption of dirt and moisture. On the second half, a disposable sticky mat captures fine particles and debris. Shoes are exceptionally clean and dry after walking across this mat, keeping studios, exercise rooms, gymnasiums, and other workout areas clean on the other side.
Gym Mat Consultation & Order Assistance
Outfitting your fitness facility with gym mats and tiles? Speak with a member of our sales team to learn which products will best accommodate your needs. From covering large free weight areas to locker rooms and saunas, we are sure to have a mat, tile, or runner that will improve facility safety and cleanliness without breaking budget.
To speak with an Eagle Mat representative, call 1-877-333-1018.