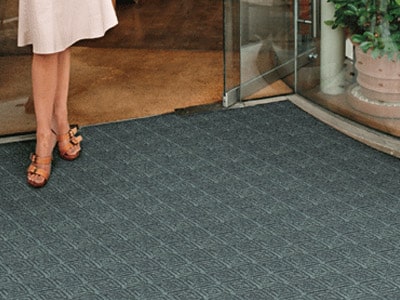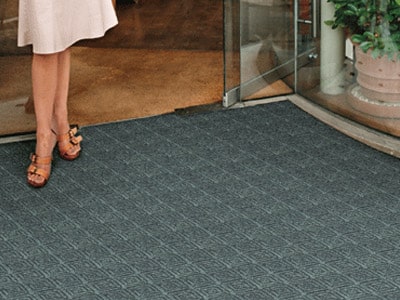 Hardwoods and tiles are always a stylish option for facilities, but these slick materials present serious safety drawbacks. In fact, slips, trips and falls contribute to 15 percent of all accidental deaths, according to the Occupational Health & Safety Administration. These types of workplace injuries are also one of the top five causes of workers' compensation. With bare, slick floors, you may be putting your employees health in danger and/or jeopardizing your companies' finances and reserves.
To mitigate some of the risk associated with workers' slip and fall accidents, many corporate buildings install carpeting. But, given the absorbency and lack of mobility associated with installed carpeting, cleanliness and replacement is challenging.
Why Choose Carpet Tiles?
If you're interested in the safety of carpet but are concerned about arduous removal and replacement, consider carpet tiles. Carpet tiles are the most highly engineered textile floor options for offices, and they are relatively easy to transport and install initially and upon replacement. If a spill occurs on one tile, it can be removed and substituted for a new, clean tile without removing the entire floor covering.
Snap-together mats clean dirt and wetness carried in from outdoor footwear. Each piece interlocks for a seamless look, so tiles do not compromise the interior design of facilities.
Where are tiles best used? Primarily, construction sites, outdoor facilities, and other areas where dirt and moisture control are needed. Given the mitigated risk of trips and falls, Eagle mat carpet tiles are commonly seen in museums, hospitals, and airports.
Top Carpet Tile Options
Using the Berber Supreme carpet material, this style of matting aggressively scrapes shoes and is perfect for entryways. It's also very durable and perfect for high-traffic areas of your facility. Not only are these easy to install, but they are simple do-it-yourself (DIY) projects to save money on labor and installation. They come in packages of 16 tiles each, with 19-11/16" square tiles to cover 43.067 square feet.
Berber Supreme Diagonal Modular Tile
As the heaviest material in the Eagle Mat and Floor line of products, Berber Supreme Diagonal Modular Tiles are unparalleled in terms of resilience. The staggered nub design and 3-coarse combination fiber is great for scraping shoes and preventing tracked dirt and debris. If you're concerned about imprints from shoes and furnishings, the tightly knit pattern circumvents pressure patterns. Additionally, with UV protection, the material does not fade when placed in direct sunlight. Each Berber Supreme Diagonal set comes with 12, 19-11/16" tiles for 32.40 square foot coverage.
For recessed applications, consider the Waterhog classic floor mat tile. It comes in ¼" or 7/16" thickness and is often seen in Class A office buildings, hospitals, and lobbies. The waffle-style pattern does not crush and is therefore resistant to heavy items and furnishings. And, like the Berber models, the material does not fade when exposed to sunlight.
If you have recessed floors but crave a design-savvy look, consider the geometric style Waterhog tile. It comes in the same degrees of thickness as the Waterhog classic tiles, but each individual square is 18 x 18 in size. Waterhog geometric floor tiles are made with polypropylene fibers that quickly dry and provide fade protection. The backing is made of Nitrile rubber to prevent movement after installation.
Whichever carpet tile you choose, rest assured knowing that Eagle Mat is committed to outfitting your building in a safe, effective manner. Contact Eagle Mat today to take advantage of our free shipping and price match guarantee.