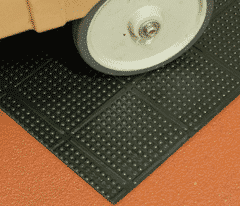 Kitchen mats are an absolute must-have for restaurants, hotels, and other commercial properties that have a fully function kitchen area and staff.  These heavy-duty floor mats perform a variety of functions that increase safety and functionality in cooking, food preparation, and storage areas.  What's more, kitchen matting is simple and cost-effective to apply.  Property owners may effectively retrofit their kitchen and food service areas with kitchen floor mats with very little investment of time or money.
Eagle Mat and Floor Products has assembled this easy-to-follow guide to help property owners and managers consider the benefits of well-planned kitchen mat installation.
Benefits of Kitchen Mats
1. Food debris and moisture management
Effective food debris and moisture management is the first benefit of kitchen floor mat installation.  Kitchen mats are made of commercial grade 100% Nitrile rubber and are embossed with deep surface textures.  This creates an ideal landscape to capture food,  liquids, and other debris that invariably accumulate during hours of operation.
2. Provide drainage in wet areas
Many kitchen mats are manufactured with spaces that facilitate drainage.  These mats are designed for use in areas that experience mild to heavy liquid spills or moisture accumulation.  Generally, two different drainage styles are offered:  circular holes and horizontal slats.  Mats with circular drainage holes are perfect for areas where light to moderate liquid accumulation is experienced.  Over-sized horizontal slats, on the other hand, provide superior drainage in most instances and are best applied in areas where heavy liquid spills are common.
3. Line shelves to prevent tray, plate, or glass slippage
Most think of only floors when considering kitchen matting.  However, kitchen matting is for more than just floor spaces!  Rubber matting products may also be used to line shelves, drawers, and counters in food preparation areas.  This creates a textured surface that prevents slippage, breakage, and moisture accumulation.
The Kleen-Rite Rubber Runner Mat is leading product for such applications.  At just 3/32" thick, this product is easily trimmed to neatly fit along most surface areas.
4. Protect freezer floors
Freezer floors need protection because they are continually exposed to frigid temperatures and heavy objects.  Heavy-duty freezer mats are your best bet in protecting concrete freezer floors from cracking and chipping over time.  What's more, rubber matting adds traction to these icy environments!
5.  Facilitate cart traffic
Kitchen carts are instrumental in maintaining operational proficiency.  Kitchen mats are now available in low-profile thicknesses that facilitate cart traffic over smooth, slippery, or uneven floor spaces.  These special mats offer the very same traction and drainage benefits as ordinary mats, but their thin profile promises to keep carts rolling smoothly throughout the day.
Editor's Pick:  Eagle Mat recommends the Knob Top Kitchen Mat for use in areas where cart traffic is common.
Kitchen Matting on Eaglemat.com
Eagle Mat and Floor Products proudly represents over 30 years in commercial matting and property management products.  Our selection of kitchen floor mat products includes the industry's most advanced products at competitive prices.  Be sure to visit our Floor Runners / Roll Goods section to browse kitchen mats in rolls of 75' or more!