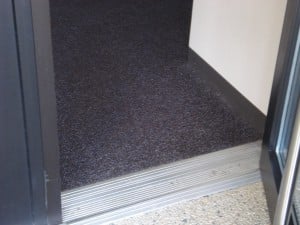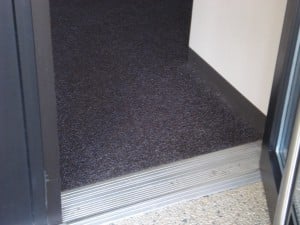 Recessed mats are not new in the commercial matting business and it has been helping many businesses already. However, still some business owners refuse to invest in recessed mats because it is pricier than the average commercial mats.
Many businesses have benefited from recessed mat applications in the entryways to their commercial or production facilities.  These mats are highly effective and discreet; they are framed in an empty space in the floor that keeps the surface flush with the ground.
Using recessed mats has a number of benefits more than the average commercial floor mat. One direct advantage is a high degree of risk management.  Recessed mats present a minimal tripping hazard because they lie within a recess.  This reduces the likelihood that a raised edge or an overall disheveled entrance mat will cause a guest to trip and fall.
Another advantage is seen in the way in which recessed mats contain debris.  For example, recessed grills allow dirt, moisture, and other debris to fall into a compartment located directly below the surface (in the recess in which they are installed).  This keeps the surface of the recessed mat clean, even when located in heavily trafficked areas like commercial vestibules.
If you are starting to think that this is the time to install recessed mats in your business store, office or building then you are on the right track. There are many types of recessed floor mats being sold today and it is a must that you carefully choose what your business can benefit from the most. Here is a good selection of recessed mats for you to choose:
1.     Pedimats, Peditreds, & Pedigrids
These Pedimat, Peditred, and Pedigrid systems are very popular among architects especially for Class-A buildings. These recessed floor mats are made of top quality tough steel construction rails and come in acrylic, carpet and vinyl. These recessed mats are known to be the strongest and can handle 1000 pounds load on wheels.
Usually, the ¾ inch depth offers more dirt storage so it does not accumulate on top. The Pedimat recessed mats have soft-durometer cushions that minimize the noise level when there is heavy foot traffic.
2.     Berber
Berber Supreme recessed mats are very aggressive in eliminating dirt and moisture from entering your office. These recessed mats are popular choices for moderate to heavy foot traffic in an office or building. The recessed mats have a parallel ridge, which provides reliable support and long-lasting durability.
Berber recessed mats have weatherproof UV stabilizers. This protects the colors of the mat from fading when placed outdoors. These recessed mats also keep the dirt and moisture below its surface.
3.     Waterhog
Waterhog Classic Floor Tiles are an eco-friendly option made from recycled plastic drinking bottles. Though made entirely of post-consumer plastic, Waterhog floor tiles are incredibly durable and resilient.
Waterhog recessed floor tiles come in various designs so you can customize the style suited for your business. The herringbone pattern used in these recessed mats is effective in scraping dirt from under the shoes. The pattern also looks great with almost any interior décor.
4.     Cocoa Mats
Cocoa mats are another eco-friendly option. It uses coconut husk fibers as scrapers. The high-grade vinyl backing holds the fibers together. These recessed mats come in different thicknesses depending on what you need.
Cocoa mats are famous for its durability. Coconut husk fibers are very tough and long lasting. These recessed mats are known for its immunity to heavy-duty use as well.
5.     Vinyl
Vinyl recessed mats are made using rectangular links bounded together. Industrial stainless steel rods bind these links together to ensure strength and durability. These recessed mats are recommended for high traffic areas. Vinyl recessed mats can be placed indoors and outdoors.
Customer Service:  Here to Help You Choose
Eagle Mat and Floor Products proudly celebrates over 3 decades of commercial matting and flooring expertise.  We have a passion for helping businesses of all sizes choose only the best safety matting and property management products.
Visitors are encouraged to contact Eagle Mat online for a free product quote or with any general questions.  Our experienced Customer Service staff is available to from Monday through Friday, 9am-5pm, to answer your questions as well.  Simply call 1-877-333-1018!