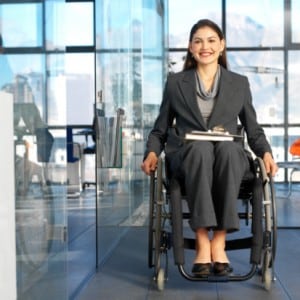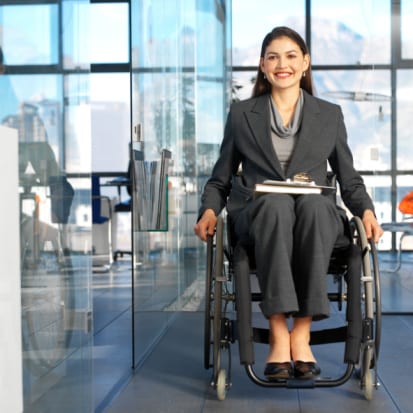 U.S. Congress enacted the Americans with Disabilities Act (ADA) in 1990 to put an end to discriminatory hiring and management practices in both private and public sectors.  The ADA is seen as a landmark civil rights victory for a growing population of Americans who suffer with physical or mental impairments that may substantially limit everyday life activities.  Disability employment advocates likewise see the ADA as a revolutionary piece of legislation that breaks the barriers to employment faced by many Americans with disabilities.
The ADA is a framework that ensures accessibility and equity in the workplace for all, including employees, prospective employees, and patrons.  Instrumental in the continued success of the ADA is compliance with the Act's safety, accessibility, and hiring requirements.  This article has been created to help businesses consider how ADA compliancy can be achieved through simple commercial matting applications.
3 Reasons to Invest in ADA Compliant Commercial Matting
1. ADA compliant floor mats are low-profile. 
The profile of a floor mat refers to how high the mat rises from the ground.  This measurement may also be referred to as height.  ADA compliant floor mats are constructed with an exceptionally low-profile to make them easier to traverse by individuals with mobility devices.  However, employees with disabilities are not the only individuals who benefit from the added safety of low-profile commercial matting products.  All facility guests benefit from low-profile matting in entryways, corridors, and other heavily trafficked areas because they present a minimal tripping hazard while keeping areas clean, dry, and safe.  In this way, overall facility safety is improved after the installation of ADA compliant floor mats.
2. ADA compliant matting is skid-resistant.
The term skid-resistant refers the way in which a floor mat remains in position by "gripping" the underlying floor surface.  Skid-resistance is achieved by lining the back of the mat with a material that will cause friction when placed against the floor surface.  The most common skid-resistance backing for commercial mats is Nitrile rubber, a commercial-grade rubber composite that is both highly resilient and extremely resistant to slippage.  Skid-resistance is a crucial element of ADA compliant matting because it keeps floor mats flat to the ground and presents a minimal tripping hazard, particularly to individuals using mobility devices.  However, employees with disabilities are not the only individuals to benefit from skid-resistant commercial matting products.  Skid-resistant matting improves overall facility safety just as the low-profile matting does (see #1 above).  These mats ensure that facility floor spaces are accessible, clean, and safe for all individuals to traverse.
3. Achieving ADA compliancy is not unreasonably expensive.
It is a common myth that ADA compliancy comes with a large price tag.  True, renovating physical aspects of a facility to make it more accessible may be costly.  However, ADA compliant floor mats are a cost-effective way to make facilities a safer and more accessible place without investing in extra safety products.  Facilities must invest in safety mats to control debris accumulation in major entry/exit areas, corridors, lobbies, kitchens, and other heavily trafficked areas.  Most ADA compliant floor mats are comparable in price to non-compliant alternatives, so choosing them is a forward-thinking way to achieve a higher degree of safety without significantly increasing expenses.
Floor Mat Consultation
Eagle Mat and Floor Products is pleased to offer complimentary commercial floor mat and safety product consultation.  Our experienced customer service representatives are available to help organizations choose low-profile and ski-resistant matting solutions that are safe, effective, and ADA compliant.  To speak with a member of our team about retrofitting your facility, please contact us online or call directly at 1-877-333-1018.