The Modern 2 wall units are a perfect solution for situations where a flexible retractable barrier is required without taking up floor space. Used in a variety of settings including airports, multiplex theatres, restaurants, shopping malls and banks.
Belt lengths available: 24' & 30' long.
Belt Height (Standard): 2" (50.8mm).
Long belt lengths for closing very wide areas.
A variety of mounting options are available to suit different applications and all are easy to install.
A full range of cap colors are available.
Please note that our wall units come with wall clips.
Wall Mount comes with traditional mounting bracket. Optional mounting brackets are available for purchase. Please call for details.
An Outdoor Marine Layer can potentially be added for an Up-charge, so that the product may be placed outside and will be able to withstand the outdoor and inclement weather. Please call us for details!
Please be aware that due to gravity, the longer length of webbing used within this unit will bow slightly towards the middle. To minimize the effect of this, please inform us of the exact measurement of your "wall to wall" length and we will minimize the required webbing to fit to your exact requirements. Please contact a sales representative for more details
| Modern II: Reverse Wall Mount | 24' Belt | 30' Belt |
| --- | --- | --- |
| Modern II with Black Caps | $339.00 | $376.00 |
| Modern II with Red Caps | $339.00 | $376.00 |
| Modern II with Yellow Caps | $339.00 | $376.00 |
| Modern II with Polished Silver Grey Caps | $385.00 | $415.00 |
Modern Colored Cap Options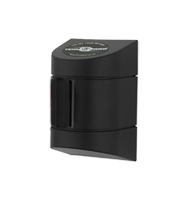 Black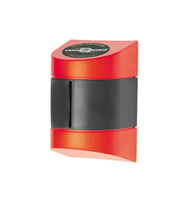 Red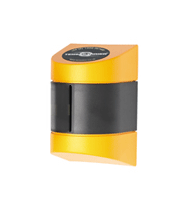 Yellow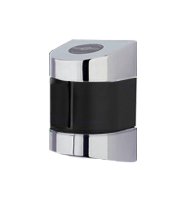 Polished Silver Grey
Belt Colors (Belt Design Code shown in bold)
Vibrant & Fluorescent Webbing

B1X White
(White)

B5X Grey
(PMS 431)

B7X Dark Grey
(PMS 432)

B9X Black
(PMS 426)

F5X FL Yellow
(PMS 388)

F3X FL Pink
(PMS 813)

F2X FL Orange
(PMS 804)

G2X Light Green
(PMS 346)

G6X Green
(PMS 348)

G7X Dark Green
(PMS 3435)

L3X Light Blue
(PMS 299)

L5X Blue
(PMS 287)

L7X Dark Blue
(PMS 2995)

P5X Purple
(PMS 267)

R5X Red
(PMS 199)

N7X Brown
(PMS 497)

O5X Orange
(PMS 144)

R7X Maroon
(PMS 505)
Standard Printed Webbing

BCX
(White on PMS 426)

BDX
(White on PMS 426)

RAX
(White on PMS 186)

RBX
(White on PMS 186)*
*Single Sided Print Webbing
Chevron Webbing

D1X Blue
(PMS 2728)

D2X Green
(PMS 348)

D3X Red
(PMS 186)

D4X Black & Yellow
(PMS 107)
We're sorry, but there aren't any file downloads available for this product.
Please contact us if you would like more information. Thank you.